Shearing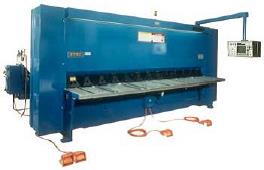 A quality part begins with a blank, which is cut square and to close tolerances. Shearing tolerance capability on each GEC machine is monitored by continuous Statistical Process Control (SPC) charting for accuracy. The GEC warehouse receives and inspects a wide variety of metal sheets, plates and bars daily from mills and warehouse distribution centers. We have a selection of shears capable of handling various specifications from the Cincinnati CNC machine rated at 3/8" mild steel x 12' to the Lodge & Shipley CT24 rated at 10 ga. X 24".
Blanking & Punching: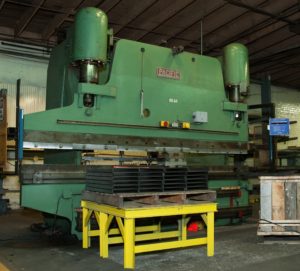 Versatile press equipment is essential for the efficient production of sheet metal parts. At the George Evans Corporation, a variety of machines are available to meet your specific blanking and punching production tolerance goals.
The ease of changing CNC programs and standard tooling increasesthe flexibility of any design and lowers set-up costs. GEC has a variety of punch presses suited for single hole punching, gang and multiple hole punching, multiple diameters, notching, or cut-off operations.
SPM 1000
33 Turret Stations including two Auto-Index stations
Control Automation Bar and Angle Cutting and Punching Machine
Our list of equipment includes:
Press Brakes
(2) Cincinnati CNC 135 Ton
Wysong CNC 100 Ton
Mechanical 200 ton
Mechanical 225 Ton
Hydraulic 250 Ton
Pacific CNC 350 Ton
Large Presses for Blanking & Forming
Federal Press 150 Ton
Danly Press 200 Ton
Niagara with knockouts* 250 Ton
Cleveland D.C. with knockouts 250 Ton
Williams & White Hydraulic* 300 Ton
Williams & White 250 Ton
* Cushion for Deep Drawing
Punch Press
Niagara 22 Ton
Ferracute 35 Ton
Ferracute 40 Ton
Niagara 60 Ton
Niagara 75 Ton
Deep Drawing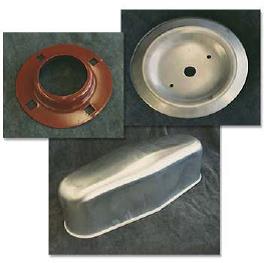 To have a controlled pressure application and ensure a quality finished part, Deep Drawing requires a cushioned press bed. GEC has both a 250 ton Niagara and 300 ton Williams & White for deep draw work.
Bending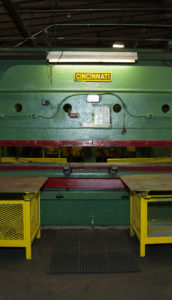 Precision set-ups are followed by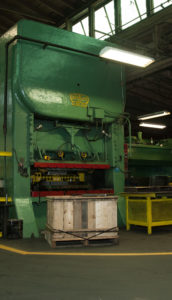 Statistical Process Control (SPC) monitoring during all GEC production runs. The Cincinnati CNC Press Brake improves accuracy and repeatability. The computer stores the set-up data, locates the gage stops, controls ram travel, bed deflection, and repeats the operation sequence. These controls save valuable set-up time and in most cases eliminate the expenses and lead- time of special tooling.
Our list of equipment includes:
Cincinnati CNC Hydraulic 135 Ton
Cincinnati Mechanical 175 Ton
Cincinnati Mechanical 200 Ton
Cincinnati Mechanical 225 Ton
Cincinnati Hydraulic 250 Ton