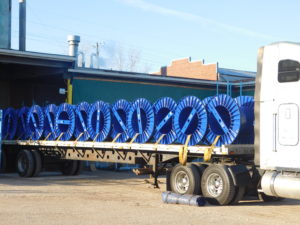 Since 1939, The George Evans Corporation has provided the wire and cable industry with durable, cost-effective, and fully recyclable Toroidal® steel fluted reels.
The experience, versatility and modern technology in our custom manufacturing shop allows us to design and build reels to meet all of your packaging, shipping and industrial application needs.
At the George Evans Corporation, we offer the following to meet your specific requirements.
Toroidal® Reels
Western Electric Reels
NEMA I & NEMA II Reels
GEC Custom Design Reels
Structural Reels
Let GEC build your next reel!